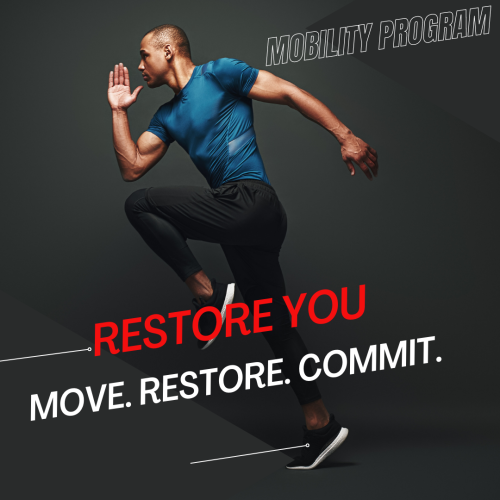 Functional Movement, Postural, and Mobility
This is an Individualized functional movement, postural and mobility training program designed to let you work, play, and live optimally. Although there are numerous programs available, this program was not developed to just be a guided exercise program.
Over the past 22 years of being in this profession, I have treated numerous patients that have begun an exercise program that caused injury, often leading to a vicious cycle of pain. With the high demand and rise of Bootcamps, Personalized Coaching, and Personal training, I have noticed a large percentage of people begin these programs without having a firm foundation on how they move, or really have any body awareness. Having said this, I do believe there are many great programs out there, with excellent trainers and coaching, where programs are modified and tailored for each person.
The question that remains is, do people really understand how their body is moving? In my opinion, not every exercise can be modified if a person does not have basic foundational movement and mobility patterns to ensure the body is working efficiently. This is especially important when injury has occurred in the past, and mobility and strength have not been fully achieved before starting an exercise program. It is all about timing!
Individual: $599 (8 Sessions) / Group of Two: $849 (8 Sessions)
Functional, Movement, Postural & Mobility Training. An individualized functional movement, postural, and mobility training program designed to let you work, play, and live at your best. If you have been injured or lost touch with how your body moves, this would be a great program for you!
Individual: $599 (8 Sessions) / Group of Two: $849 (8 Sessions)
Strength, Flexibility & Cardiovascular Fitness. An individualized program for those individuals who have a good understanding of functional movement but want to build on their strength, flexibility, and cardiovascular fitness. It also builds on everything taught in the RESTORE YOU program if you decide to advance.
Individual: $699 (8 Sessions) / Group of Two: $949 (8 Sessions)
Sport-specific Training. An individualized sport-specific training program designed for you to move more efficiently in your sport. Each program is designed according to the athlete's functional needs. All programs are reinforced with evidence-based research to reduce sport-specific injuries.
Individual: $849 (3 Psychologist Sessions + 5 Exercise Sessions)
Help Target Mental Health Issues. An individualized program that addresses mental health. In this program you will receive 3 sessions with an experienced Psychologist to target mental health issues and 5 sessions focusing on exercises that are designed specifically for you by our amazing professionals. These include physiotherapists, massage therapists, kinesiologists, and athletic therapists.
So much of the world is broken; we want to be part of the healing.
We believe that healing and helping others goes beyond providing a hands on approach, progressive rehabilitation and education. It truly involves empowering others and going above and beyond the mainstream expectations of care to produce changes that impact lives. Visit Restorative Touch Physiotherapy on Hamilton Mountain. 
Restorative Touch Clinic Features
Our clinic is on the second floor of the building, with wheelchair access to our office via elevator on the first floor. There is also accessible and ample regular parking in the plaza.
Physiotherapy Services & More!
We here at Restorative Touch offer a wide range of services for your needs, from neurokinetic therapy to acupuncture and chiropractic care.
Hamilton Mountain Physio Hours & Location
Our offices are open Mondays – Saturdays. We're located on the second floor, Suite 226, at 1119 Fennell Avenue East.
Contact us today for more information.